Blair Metals Limited
---
We are happy to be open again - But in these strange times we have slightly changed our opening times. We are open from Monday to Friday as below. However, we are quite happy to open early or stay late or even to open on a Saturday - By appointment. Feel free to ring for details!
Monday to Friday from 8am - 4:30pm
Saturdays and early or late openings by appointment – ring for details.
---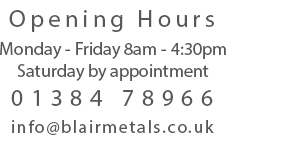 Blair Metals Limited is number one in scrap metal recycling in the West Midlands. Please contact us with any questions you have regarding your scrap metal.
We pride ourselves with first class customer service and offer the best prices.