Commercial Scrap Collection Services
---
Blair Metals has a range of solutions for scrap metal disposal from Commercial Premises, factories and manufacturers. We will be pleased to conduct a free and no obligation survey of all of your waste requirements.
Blair Metals are able to respond to your needs in a number of ways.
It may be that you require regular collections of bulk scrap or waste metals by utilising our fleet of specialist collection vehicles. We operate within the specified guidelines of the Environment Agency and have full licensing:-

Carrier Licence Number
CBDU371525

Waste Management Licence Number
EAWML/46077
Alternatively, you may require a skip to be permanently located at your chosen premises with a regular schedule of collection Scrap and delivery by Blair Metals own skip vehicles.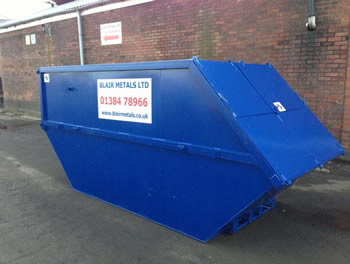 Whatever your requirements please feel free to call Blair Metals for an expert appraisal of the needs of your company. Free and no obligation quotations are always available.
Environmental
Blair Metals Ltd appreciate that good environmental practice is a fundamental cornerstone of the business. Indeed, a duty of care is incumbent upon any company who aligns themselves with the need to recycle materials - especially metals.
With this in mind the company has implemented and maintains an Environmental Management System based on mandatory and regulatory requirements.
These requirements require us to adhere to the provisions surrounding our environmental licence, waste management licence and also the framework established by our registration with the Local Authority (in accordance with The Scrap Metal Dealers Act 1964).
Putting aside the regulatory regime – Blair Metals decided that it is a good decision to take all matters environmental very seriously, especially the recycling of metals. Not only is this a good moral standpoint but it is great for business!
We therefore pride ourselves on providing first class recycling facilities for us, for our customers, for the local community and for the future of everyone. You can be certain that any metals or materials recycled by us will be recycled in the safest and most appropriate method possible – on that you have our word!
"The Blairs – Still Making War on Prices for Metals of Mass Production"